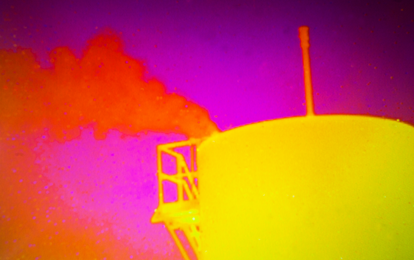 Are your storage tanks losing product and emitting large percentages of VOC in oil & gas production? Do your tanks meet EPA emission "QUAD O" regulation? With the new, tighter EPA regulations call for tighter tank top solutions, Enardo's new ES-665 thief hatch has risen to the challenge.
The newly engineered Enardo internal components have proven to be a quantum step forward in sealing technology. Only the Enardo ES-665 Series provides ultra-tight sealing for applications that require maximum emissions control. The Enardo ES-665 performance has improved to 0.1 SCFH at 90% of set pressure at ambient conditions, which surpasses any thief hatch on the market by at least 10 times. In addition to emissions control, the escape of evaporated tank liquid is minimized, which conserves the tank's valuable oil or gas contents. The Enardo ES-665 is offered as a direct replacement for any standard API 8" thief hatch. Additionally, an ES-665 center assembly can be installed in existing 660 or ES-660 hatches for increased performance, although results will vary depending on the condition of the base.
Inspectors often use an optical gas imaging infrared camera (IR camera) to detect leaks from storage tanks. Common compliance issues include leaking hatches and other pressure relief devices. Violations have resulted in significant fines and even facility shutdown. With the new ES-665 thief hatches, no identifiable emissions are released from the hatch when not venting. Note there are key differences between "venting" and "leakage." Venting is pressure and vacuum relief to protect the tank. Leakage is the escape of vapors when there is no venting.
Previously, a study by the Colorado Air Pollution Division found that almost 50% of leaks were from thief hatches versus other PVRV devices. Since then, our customers in the Permian, SCOOP/STACK, and San Juan Basin have been making major strides in reducing emissions by implementing Enviro-Seal packing, low-bleed instrumentation and electric technologies. Facility upgrades using these technologies and other efforts helped our oil and gas customers in the San Juan Basin reduce methane emissions by 47% from 2011-20161. The Enardo ES-665 is the latest thief hatch to continue reducing methane emissions ultimately saving money and helping the environment.
How It Works
As tank pressure changes due to temperature or liquid level, the hatch's pressure and vacuum set points respond. When tank pressure is above the set point of the hatch, the center assembly opens to relieve excess pressure. When the overpressure has dissipated, the center assembly re-seats onto the base to provide a tight seal.
Key Features and Benefits
• Ultra-tight emissions performance of less than 0.1 SCFH at 90% of set point to control emissions and product loss
• Pressure and vacuum control for tank safety
• Access for tank gauging and sampling
• Multiple relief settings and seal options for application flexibility
At Vinson, we continue to provide solutions to help our customers reduce and eliminate emissions. The Enardo ES-665 is the latest product in our portfolio to provide drastic improvements. Please contact Vinson Process Controls to learn more or receive a quote for Enardo's new and improved ES-665 thief hatch.
1. Whitehead, S. (2018, March 06). EPA Report: Oil and Gas Methane Emissions Down 47% in Four Corners Region -. Retrieved from www.energyindepth.org