Our website uses cookies. By continuing to browse our site you are agreeing to our Cookie Policy.

Register Your Organization for Electric Actuation University today.
Vinson Process Controls is proud to announce that we are now offering customized training modules for Electric Actuation technology through our new training program: Electric Actuation University.

Our subject matter experts will design each custom training module around the topics and industries you choose for your company. Training times are flexible, and will be scheduled when it's most convenient for you.

Our goal with every training is to provide you with timely, insightful information that leaves you and your team more comfortable and confident using the technologies from our portfolio of electric actuators.

If you'd like to request training for your team, please use the provided form. A representative from Vinson will be with you soon!
Courses to meet your training needs
View the options below to select your the industry and topics best suited for your organization: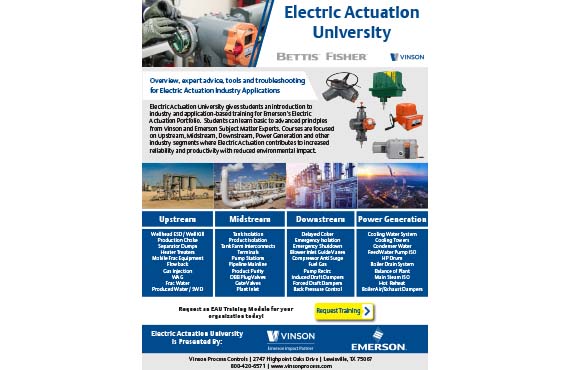 Learn More
Download the Electric Actuation University Flyer, and request training for your organization today.
Download