With over 65 years of reliable service around the world, Bettis electric actuators have become the industry standard in valve control and Vinson is excited to offer these products to our valued customers as the exclusive sales channel.  The following success story is focused around Bettis RTS electric actuators being applied by a global Exploration & Production company in the Permian and Delaware Basins of West Texas and Southeastern New Mexico.   
Vinson was consulted and tasked with providing an improved solution for electric actuated wellhead Emergency Shut Down valves (known as Well Kill).  Existing actuator technology was creating reliability issues and utilized a battery backup to provide a fail-safe position which in turn created unwanted maintenance and battery replacements requiring repeated trips to the field.  All of this added up to operational complications including poor overpressure protection for the wells and slow fail-safe stroke speeds.  Additionally, the fail-safe operations were not SIL3 rated and no onboard diagnostics were available. There was no alarm if the fail-safe mode was not ready. 
Vinson was challenged with providing a solution that could: 
Improve Reliability and Maximize Production 
Provide Mechanical Fail-Safe    
Reduce Operational Expense  
Pneumatic actuator options were not possible due to a lack of electric power to operate air compressors and hydraulic actuators were not acceptable due to environmental concerns.  
Partnering with Emerson Actuation Technologies, we were able to provide a reliable and trusted mechanical fail- safe solution offering with real time diagnostics and no battery dependency. The Bettis™ RTS Fail-Safe Quarter-turn actuator was installed on the well flow line, powered by a 24DVC solar system.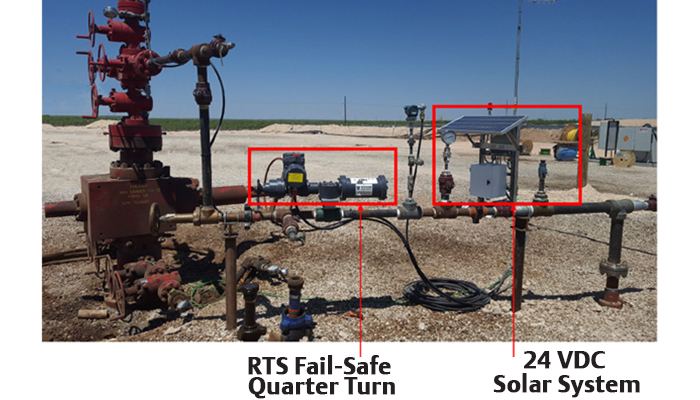 Fail-safe functionality was controlled with a PLC using a pressure transmitter and the well health and fail-safe actuator status were communicated directly back to the control center. As a bonus, we were able to assure our customer that they would never need to worry about environmental concerns. The Bettis™ RTS actuator is fully electric and environmentally friendly. 
Utilizing the Bettis RTS series of electric actuators, we were able to assist a valued customer with lowering Maintenance and Operations costs while expanding their process visibility and availability and enabling them to overcome the challenges they were experiencing with their production wells in two critical basins. 
Let us help you solve your next set of challenges!  
Vinson is here to assist you 24/7 with sales, service, and applied engineering when you need it most.  
Learn more about the Bettis RTS Series of Actuators: 
Learn more about our Electric Actuation Portfolio